April 30, 2015
PICTURED ABOVE: Villagers Su Bairen, 69, and Yan Man Jia Hong, 74, stand on the edge of the six-mile-wide toxic lake in Baotou, China that has devastated their farmland and ruined the health of the people in their community – IMAGE: The Daily Mail (UK)
Out of sight, out of mind – its an old saying that allows people with a problem to pretend it doesn't exist.  That's how it is with wind turbines, the supposed 'clean and green' technology.
Yet the way the motors in wind turbines have to be manufactured was exposed by the Daily Mail in 2011, and verified by the Guardian – leaving terrible human health impacts and environmental degradation in China.
The process required to extract 'rare earth' minerals necessary for 'clean' technology is hardly clean at all, leaving miles of environmental wasteland on once clean, green land.
The Guardian explains in more detail the process for extracting rare earths:
The town of Baotou, in Inner Mongolia, is the largest Chinese source of these strategic elements, essential to advanced technology, from smartphones to GPS receivers, but also to wind farms and, above all, electric cars. The minerals are mined at Bayan Obo, 120km farther north, then brought to Baotou for processing.

The concentration of rare earths in the ore is very low, so they must be separated and purified, using hydro-metallurgical techniques and acid baths. China accounts for 97% of global output of these precious substances, with two-thirds produced in Baotou.

The foul waters of the tailings pond contain all sorts of toxic chemicals, but also radioactive elements such as thorium which, if ingested, cause cancers of the pancreas and lungs, and leukaemia.

"Before the factories were built, there were just fields here as far as the eye can see. In the place of this radioactive sludge, there were watermelons, aubergines and tomatoes," says Li Guirong with a sigh.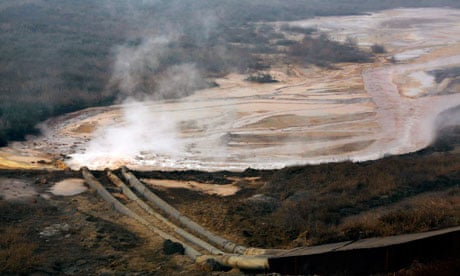 THE GUARDIAN: Pipes coming from a rare earth smelting plant spew into a tailings dam on the outskirts of Baotou in China's Inner Mongolia autonomous region. Photograph: David Gray/Reuters
Reuters reported in 2012:
China's rare earths refineries, which secured their monopoly by turning out metals at extremely low prices for more than a decade, have poisoned rivers with acid and piled up radioactive waste – an environmental cost that aroused little controversy in developed, consuming nations when metal prices were low.
The Daily Mail 2011 expose reported:
Jamie Choi, an expert on toxics for Greenpeace China, says villagers living near the lake face horrendous health risks from the carcinogenic and radioactive waste.
'There's not one step of the rare earth mining process that is not disastrous for the environment. Ores are being extracted by pumping acid into the ground, and then they are processed using more acid and chemicals. Finally they are dumped into tailing lakes that are often very poorly constructed and maintained. And throughout this process, large amounts of highly toxic acids, heavy metals and other chemicals are emitted into the air that people breathe, and leak into surface and ground water. Villagers rely on this for irrigation of their crops and for drinking water. Whenever we purchase products that contain rare earth metals, we are unknowingly taking part in massive environmental degradation and the destruction of communities.'
The Newcastle Herald in Australia further investigated these reports here.

This month (April 2015), the Chinese Government acted at last, banning by 2016 the water polluting mills that –  like rare earth factories – are damaging the environment and human health in China.

It will be interesting to see what that does to the cost of wind and other rare-earth dependent renewable energy.

baotou, carbon pollution, china, chinese, climate change, inconvenient truth, inner mongolia, pollution, rare earth, rare earth smelting, renewable energy, renewables, smelting plant, water pollution, wind farm, wind industry, wind tower, wind turbine